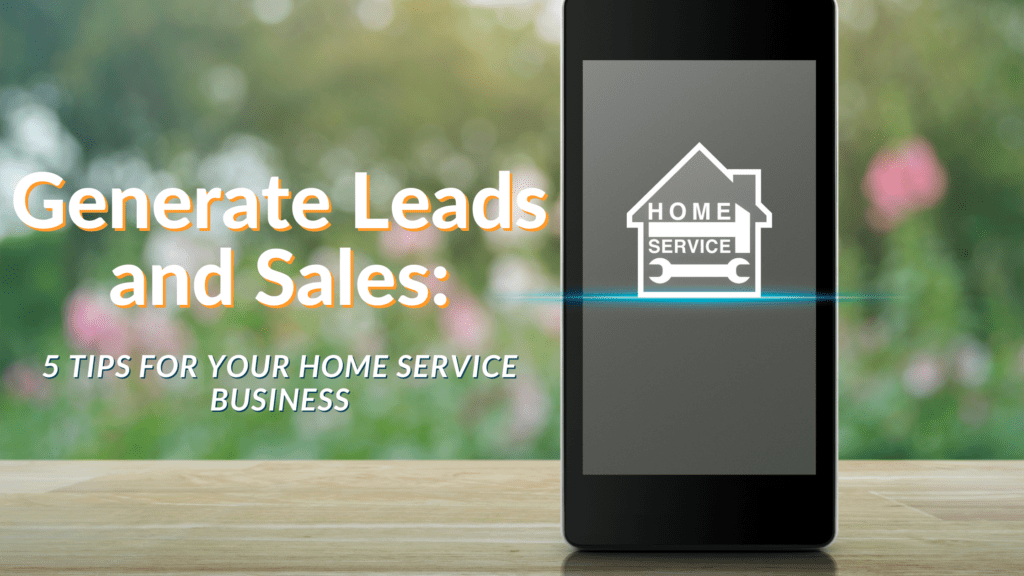 If you checked out our last blog that showed you how to optimize your Google My Business Listing, you're probably wondering what else you could do to generate leads and why it matters to generate sales for your business. Lead generation is all about identifying, qualifying, and nurturing potential clients so they will call on you for a home service job when the time comes…
So let me ask you this…
Wouldn't it be nice if people called on YOU for work instead of YOU calling them?
If that sounds good to you, keep reading.
Lead generation refers to activities that businesses can perform to get more customers. It encompasses digital marketing tactics intended to attract prospective buyers by using online channels such as social media marketing, search engine marketing (SEM), e-mail direct marketing (EDM), and creating landing pages that entice potential customers to either call you or give you their information to call them.
Lead generation typically entails making your sales and services available at the right time and place for your target audience through relevant channels. When executed correctly, it involves creating a continuous stream of highly qualified leads from different sources.
Lead generation should also lead effortlessly into the selling process – meaning these clients are already pre-sold. Your job now is to close them on why your services are the best.
Here are 5 tips that will get you more home service business leads and generate sales.
Home Service Business Lead Generation Tip #1: Lead Nurturing
Since you're working in the home service industry, most of your leads have likely had work done by someone else. Lead nurturing is about getting those past clients back and making them aware that you offer their kind of services. Lead nurture programs are designed to keep your warm leads warm by continuously reminding them why they want to do business with you.
Home Service Business Lead Generation Tip #2: Lead Generation Automation
Lead Generation Automation is a subset of lead nurturing – it's when the software takes over the process and keeps reaching out to potential prospects on its own. The right tools can help you reach out without being annoying; they automate things like birthday emails, reminders for events, holiday cards, or any other promotion that keep you top of mind to your potential customers and will generate sales.
Home Service Business Lead Generation Tip #3: Social Media Lead Generation
The convenience of generating leads with social media is in its deployment. With just a click, you can post your services right on Facebook and LinkedIn, along with any special offers or coupons that are simple to share – all without having to create extra content, which saves you time.
Another benefit is that it allows potential customers to review your work before deciding whether or not to reach out; their feedback could help you refine the way you do business and ultimately have happier clients.
Home Service Business Lead Generation Tip #4: Lead Generation Tracking Software
Lead generation tracking software tracks website traffic by leads, converts, and revenue. This lets you know how effective your lead generation efforts are so that you can optimize them to generate sales. When connected to a robust CRM like BKXX Marketing's Business Growth Accelerator platform, Lead generation tracking software will allow you to reach out to your potential clients in real-time when they like, comment, or share one of your social posts.
Home Service Business Lead Generation Tip #5: Search Engine Marketing
Search engine marketing is an effective way to attract qualified traffic to your website and generate sales. When you advertise on search engines like Google, potential customers will notice it and click through to find out more about your business. Lead generation is closely tied to search engine marketing because the goal is the same – get people's attention so they'll contact you for a free quote.
BKXX Marketing's Home Service clients range from 1 man/woman show operations to fully staffed businesses with over 100 employees. There isn't a project too big or too small for BKXX Marketing.
Suppose you are struggling to find qualified leads for your home service business. Reach out to us today, and we would be happy to assess your strategies and provide recommendations to enhance them.
Looking for more insights to generate sales? Be sure to follow us on facebook!