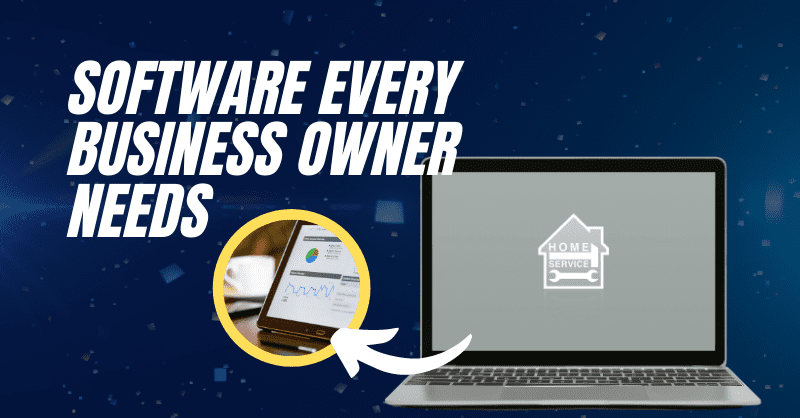 This post contains affiliate links. We may make a small commission if you purchase any one of these software applications after you click the link.
If you're looking for ways to grow your home service business, you're in luck. There are a ton of business software applications on the market can help you reach more customers and grow your business. Here are three of our favorites:
1. Click Funnels – This software helps businesses capture and convert more leads. It can create custom landing pages and sales funnels for your plumbing business, making it easier to acquire more leads and grow your business.
2. Monday – Monday is a popular CRM (customer relationship management) software application and project management tool that manages your customer data and interactions.
3. Google Workspace is a powerful business software application that can keep your entire business synced to the cloud.
Clickfunnels:
 The only funnel builder that makes you an advanced digital marketer in 10 minutes or less.
What if I told you there's software that can replace your website and autoresponder? You'll save time and money building high-converting landing pages without coding or design skills.
ClickFunnels is a software application that helps businesses capture and convert more leads. The simple editor makes it a breeze to create custom landing pages. The funnels you can create for your home service business make acquiring more leads and growing your business easier. ClickFunnels is an essential tool for expanding your customer base and increasing sales.
The simple drag and drop software makes it easy to quickly create a high converting landing page to turn visitors into customers.
Once the lead is captured, staying in front of your client is key to creating a customer for life.
Email is the best way to remarket to your customers and prospects. It has the highest ROI. You can also use ClickFunnels to create a custom email sequence to nurture leads and convert them into paying customers.
Does your business offer a DIY service? If so, ClickFunnles can also be the perfect digital storefront to sell your DIY solution kit.
Its high converting e-commerce funnels are the perfect solution to sell your kit and tools with strategically placed upsells and down-sells. Having those tools allows for more significant cart sizes and maximum profits.
Suppose you want to know more about how ClickFunnels can grow your business. You can get a 30 day free trial with additional bonuses totaling over $8,000 by clicking here.
Monday.com – Manage your customers & services in real-time.
Monday is a project management software that allows home-service businesses to manage workflows better. Using Monday, your management teams can easily see what tasks need to be completed, who is responsible for each job, and the deadlines for each task. Being organized helps better allocate resources and get more work done on time.
In addition, Monday also allows tracking of customer data. Data is essential to understand customer needs and preferences better. As a result, better customer service can be provided along with increased growth.
Several board templates have been created to speed up the implementation process of Monday. Be sure to check out the construction templates on the home page of your dashboard.
You can get a free trial on Monday here. And with plans starting at free, there is a level for every business, no matter its size.
Workspace by Google – The business software that makes it secure and easy to communicate with your customers and store your files.
Have you ever received a business card with a @gmail.com or @yahoo.com email address?
Using a free email account is a big Taboo in the business world. Using a non-business domain projects unprofessionalism to your customers and doesn't instill trust.
Free email accounts also leave you and your customer's data exposed to security threats. Free email accounts do not have the same security as a company domain email address.
Google Workspace is a suite of productivity tools that includes Gmail, Google Calendar, Google Docs, and more. The suite of applications Google provides is an excellent way for businesses to improve collaboration and communication between employees. By using Google Workspace, companies can make it easier for employees to stay on top of tasks, share documents and information, and stay organized.
Imagine having a suite of productivity tools that are all in one place, so you can focus on getting things done instead of managing different programs. With Google Workspace, you can create documents with Google Docs, schedule meetings with Google Calendar, and send emails from Gmail – all in one convenient location.
The new way to get things done at work is by using cloud-based software like Google Workspace. No more installing software or updating files when there's an update available – it just works! And since it is hosted on the cloud, you can access your files anywhere there is an internet connection.
Suppose you are currently using a free email from Google or Yahoo to conduct business. We encourage you to consider Google Workspace. Plans start as low as $10 per month per employee.
You can get started by clicking here to see the three options available for your company.
Conclusion:
All three of these software applications can help your business grow by leaps and bounds. Monday enables you to stay on task and keep your projects organized. At the same time, ClickFunnels can create sales funnels that increase your revenue. Google Workspace lets you communicate with clients efficiently and effectively. As a result, you can close more deals. Contact us today if you want to see how these three software work together to help your company grow. We would be happy to set up a demonstration for you and answer any questions about integrating these powerful tools into your workflow.